Podcast: Play in new window | Download
Subscribe: Apple Podcasts | Android | Google Podcasts | Stitcher | Spotify | RSS
In Episode 55 of The IMbetween Podcast, Daniel and Christina Im interview Scarlet Hiltibidal about ALL the things she has been afraid of—tornadoes, firenadoes, cows, kids who never stop screaming, plane crashes, exploding organs—just to name a few. Scarlet grew up in the green room of SNL, was born to a fire-eater and then was adopted by a SWAT cop. Scarlet has been given some of life's strangest experiences and lived in fear through most of them. Hear how Scarlet stopped being so afraid and how —you too— can live beyond fear when you don't have to overcome it. 

In This Episode, You Will Hear About:
The MANY things Scarlet has been afraid of during her life 
What it was like to grow up in the green room of SNL
How life changed for Scarlet when she learned to hold the gospel up to her fears
How you can live beyond fear
How you can learn to not be afraid of all the things 
How Did We Know the PERFECT Gift to Give Scarlet?! The Enneagram! 
Resources Mentioned During the Episode:
Quotables:
"I was busy resting in my faith, so I wasn't afraid." – Scarlet Hiltibidal 
"My goal in my home is not to raise the perfect child or be the perfect mother. That goal is impossible. My goal is to live out the gospel in my home." – Scarlet Hiltbidal 
"My goal is to show my kids that we are weak and we need Jesus every day." – Scarlet Hiltibidal 
"My goals don't have to be, "Be perfect." My goals can be that I can rest in His perfection." – Scarlet Hiltibidal 
"I moved from saying, "Good morning, world. How can I protect myself and my people today?" to "Good morning, God. How can you use me to love the other scared people in this scary world today?" – Scarlet Hiltibidal 
"I realized I didn't have to be afraid because my soul was safe. I don't have to be afraid that I am doing Christianity wrong. I can't do it wrong. Jesus did it right. I just have to believe Him." – Scarlet Hiltibidal 
"I can replace all my scary thoughts with the truth that God defeated all the scary things." – Scarlet Hiltibidal 
"You can trust Jesus with your marriage. You can trust Him with your diagnosis. You can trust Him with your children. Your finances. Your career. You can feel joy and peace in your soul, in the midst of any storm, both literal and figurative." – Scarlet Hiltibidal 
"Community – for an anxious person – is huge." – Scarlet Hiltibidal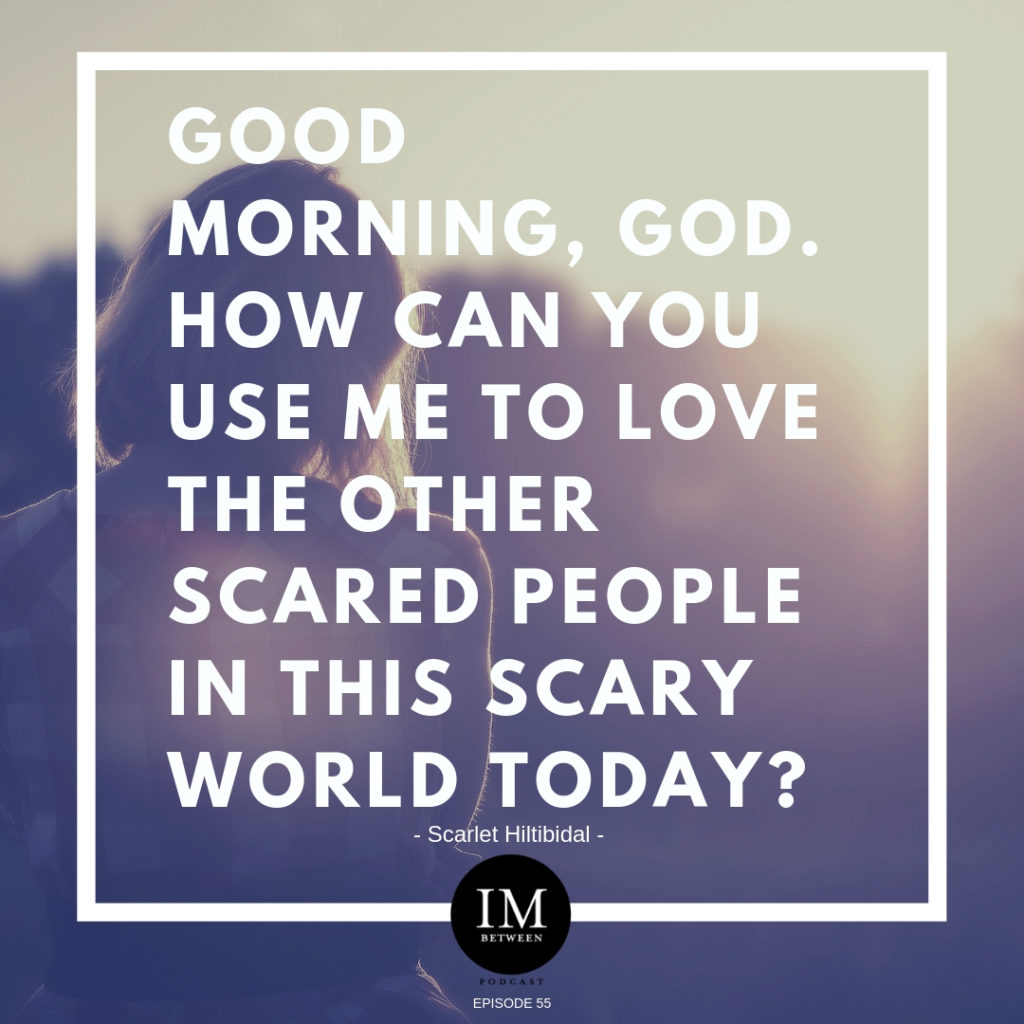 Subscribe and Connect With Us:
And don't forget to subscribe to our podcast, so that you will never miss an episode!
_________________________________________________________________________________________
Meet Scarlet Hiltibidal:
 
Scarlet Hiltibidal 
is a very professional wife and mother. She is the author of 
Afraid of All the Things
and 
He Numbered the Pores on My Face
. She also writes a regular column for ParentLife Magazine. Scarlet loves sign language with her daughters, nachos by herself, writing for her friends, and learning how to be a pretend-farmer with her husband in Middle Tennessee.